0905 977 542 oxur@oxur.eu
Stairway and interior stairs
We have been making and designing stairs,  stairways and interior stairs for more than 25 years. During this period we have gained many customers in Slovakia and Europe who appreciate our  high quality and professional service.
We manufacture all variants of stairways and stair-rails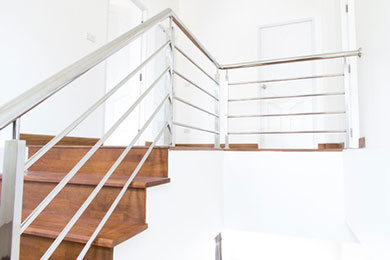 We can supply your property by different types of stairs: wooden, glass or metallic stairs, stairs to the attic and other variations of stairways.
We don´t talk about the quality, we make it
Many customers come to us and ask for our service because other providers were unfamiliar with projection and manufacture of stairs and also unwilling to deal with problems.
We are offering stair design, manufacturing and installation, all as you wish, because:
We have 25 years´experience manufacturing and installing the staircases;
Good reputation on the market. We belong to the prominent companies dedicated to the stairways production;
We manufacture stairs and stair-rails of a high quality for affordable price.
The manufacturing process of stairs
First we need to know your idea, then we consider the possibilities and measure the space where the stairs will be installed.
Based on this information we choose the type of stairs and materials. Based on given authorizations (project documentation, plan with measures) or our own measures we can prepare price offer without engagement.
After your agreement we will discuss the details and sign a work contract. We will also ask you to pay deposit invoice.
The next step will be to manufacture, deliver and install the stairway and stair-rails.
If our product perform to your satisfaction we will sign the handover protocol and will ask you to pay the rest of the invoice.
Are you a construction company, planner or architect who is looking for a sub-provider?
We offer you reliability, high quality, keeping the deadlines and a price you will be satisfied with. We communicate directly with a buyer and take care of a smooth process of stairs delivery. You won´t have to care about any details, we will take care of everything.
Guarantee and reliable service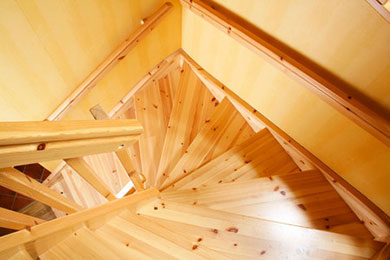 Our 3 years warranty can be prolonged, it depends on our individual agreement. We will provide you with a service promptly without any other delay.
Quality stairs do not need to be expensive
Our clients get adequate prices because:
We always recommend you the best solution;
We use reliable materials;
We know how to compromise;
We will handle the installation with every single detail.
Choose a reliable supplier for your stairs.  Contact us today and we will  gladly prepare a price offer without engagement.