0905 977 542 oxur@oxur.eu
Who are we
22 years in a human life is not much. However,  for our company, this period represents a long journey.
Our story began with a good partnership and relationship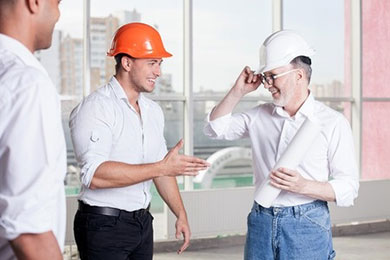 Good relations stand behind the formation of our company. They created not only conditions for the emergence of the company but they have been our main goal during its existence. Construction company OXUR began with the partnership with a friend who manufactured stairways and windows. We both believed in the product quality and our goals were the same: to manufacture reliable products and offer services which will help the clients to live in beautiful houses of better quality.
Business progress started to develop during the 1990´s and there were many companies in the construcion field. They had their ups and downs, but our partnership survived.
The company gradually grew and expanded its portfolio of services. We started to build log cabins and wooden buildings. Later we built brick houses and nowadays we can build a family house from all the accessible materials.
We build for people and we are aware of it
Our company has a good reputation on the market, not only in Slovakia but also  abroad.  We have been working in Switzerland for more than 5 years, we have built houses for generations in Italy, Austria or the Czech Republic.
How the company grew, it was necessary to expand our team. Our colleagues were hired based on their proficiency, human and moral virtues. Nobody can goof around in the construction field. Even the most ordinary work can affect the final result.
Right now we are a team of 12 professionals
We can enlarge our team if necessary. We have been trained for all construction works, we regularly renew our knowledge and obtain certificates for new technologies. We are proud of our work.
We learned a lot during our 22 years´existence. The experience and knowledge that we gained from the field and life was immensely valuable. Our company's competitive advantages offer following benefits to our clients:
We can provide complete construction of a family house or reconstruction. Client communicates only with one supplier which reduces the risk of low-quality and possible complaints.
Benefit is saving money – better price for complete construction than for individual works.
We are flexible so we can adapt to your needs, possibilities and required changes during the construction process.
We don´t save on material where we don´t have to. We use certified materials and products (components, doors, stairs). We stand behind our work.
We are not interested in increasing sales. We strive to maintain good reputation and good relations with our clients.
In Slovakia, and also abroad, we belong to the best construction and manufacturing companies, taking into account the price-quality ratio.
Join us on a successful ride of OXUR
We reward you with a house, stairs, windows and interior doors of the highest quality. We gladly prepare for you a price offer without engagement.