0905 977 542 oxur@oxur.eu
Step by step to the home building process
How to proceed in building a house? This is what our clients ask us frequently. We are commited to exceeding our client´s expectations and possibilities.  As we are a small company, we are able to flexibly react to any change during the construction.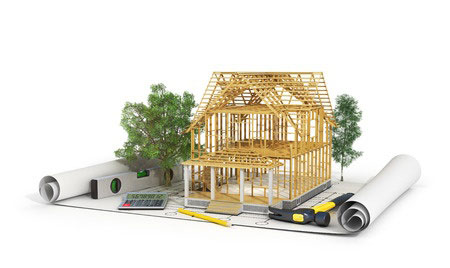 It all starts with a personal meeeting. We will consult your ideas, demands and possibilities and we´ll  try to meet your expectations. We will suggest the most suitable project and recommend you the best building process..
Next step is a price offer without engagement with all the specifications about your home.
After the agreement is done we will sign a work contract. It will protect your investment and provide us with better work conditions.
We will gladly help you with financing and construction permit. Part of the work contract is to establish phases of the financing, it will ensure that you always pay for quality work.
At this point we have done a preparation,  the next part is construction process:
First thing to do is to make exact measurements, this means that a geodesist sets boundaries for foundations or base plate of the house;
Second step is to start ground and excavation work;
We install electricity and toilet facilities, water distribution and gas fitting;
We cover the foundation strips and plate with concrete;
Then we build external walls, load boaring walls and chimney;
If the house has a ceiling, we set it up;
After that we make roof trus, roof covering and at the end we finish plumbing works;
Final step is to install doors and windows;
Interior works start with  electric power installation, we install heating, water, gas and sewage system;
We also take care of plastering;
Then we lay flooring;
Install interior doors;
After all is done we return to the exterior – time to take care of insulation system;
We will beatify your home´s exterior and surroundings;
The last step si to hand over the property to you.
We can build for you basic construction or offer you a turnkey home. We don´t offer so-called packages, every client  needs different range of house construction. Some clients need only basic house construction with base plate, external cladding with load bearing walls, ceiling and roof and others prefer turnkey house because they can move in immediately.  It all depends on our agreement.
We keep our word
Our main advantage is a turnkey house: all the construction work is our craftsmanship so we avoid qualitative deficiency and misunderstandings which sets us apart from our competition.
During the whole construction process you will communicate with only one supplier. The whole process will go smoothly and we will complete your home on time, without any unexpected surprises in terms of price. With us, you will even save your money!
What next?
Check out our family home plans.
What´s the family house price?
What are the possibilities of construction financing?